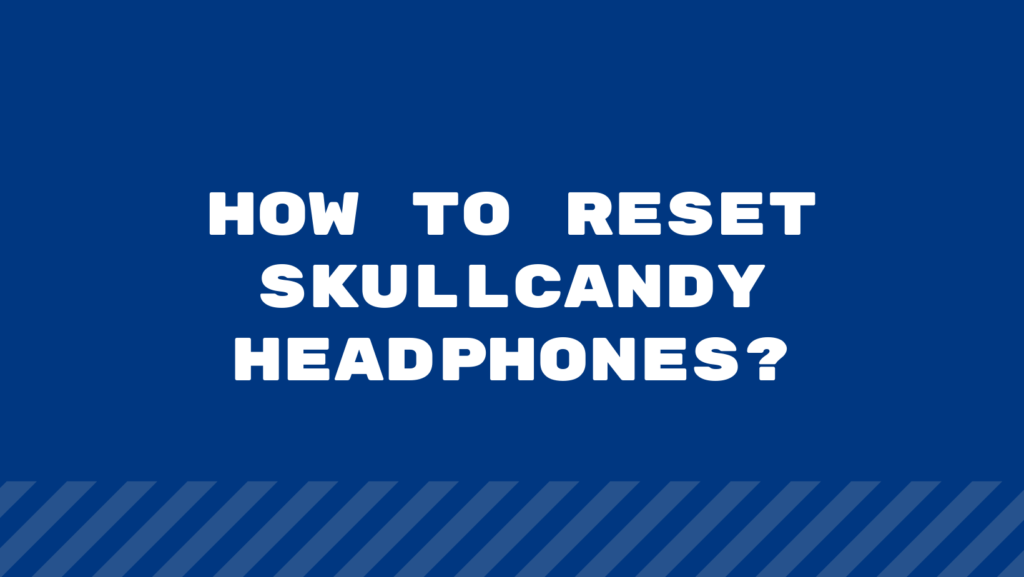 Skullcandy is a very popular company known for its high quality headphones that easily fit the user and are available in a variety of different styles so that it becomes easier to choose the one that fits your requirements perfectly. It fulfills all the needs of the user and providing them with premium quality audio. The best part about these headphones is that they are available at an affordable price so that most users can easily purchase them.
If you ever face issues related to port quality audio or problems related to connectivity then no more worries because this article will provide you all the valuable information that you need to perfectly reset the Skullcandy headphones.
Reset the Skullcandy headphones
The following steps should be followed if you want to reset a Skullcandy headphone perfectly:
You must make sure that the headphone is turned off before you start the reset
Now hold on to the volume and the power button for at least 5 seconds to reset the paired devices
This will remove all the paired devices and then turn on the headphone
Now your headphone will be ready to pair with any device of your choice
Reset the PUSHTM ULTRA Skullcandy
Follow the below mentioned steps to reset the PUSHTM ULTRA Skullcandy:
Press and hold the power button for at least six seconds
This will turn off both the earbuds which will allow you to start the reset process
If you want to completely reset the headphones then press and hold the power button for at least ten seconds for both earbuds that will first turn then on and then turn them off
After this, you will have to pair both the earbuds again
If the earbuds show red light then take them off
Now turn on the earbuds and the LED light will show blue color which means that the earbuds are syncing
Now turn on the Bluetooth for PC and search for PUSHTM ULTRA on the device list. Once you see it then click on it
Click on it to pair it and then click "Ok"
If the device is linked successfully you will be notified through a sound alert
Reset the IndyTM Wireless Skullcandy
People usually find it hard to connect wireless devices or use wireless audio. Most people prefer using Bluetooth pairing. If your device is showing issues while connecting to IndyTM Wireless then you can fix the problem as follows:
Place your IndyTM Wireless earbuds in the charging case
Go to the list of the paired devices and then remove the Wireless IndyTM earbuds
Once you remove the earbuds from the case you should turn them on
To automatically power off the earbuds and reset them, you should tap the core four times at least. If you see the red light on the earbuds it means that the process was effective.
Repeat this step on both the earbuds
Now power on the earbuds and start the pairing process
You will be able to pair devices successfully after this reset setting
If you want to ensure that the earbuds have been connected you will be assured by a slight beep which means that your device is paired and you can enjoy listening to music through a stable Bluetooth connection
If you want to repair the device then you can do it through the Bluetooth mode of the system
Best quality Skullcandy headphones
Following is a list of the best quality Skullcandy headphones to choose from:
Skullcandy Riff Wireless
If you are someone who is looking for a reliable and easy to fold headphone then your choice should be the Skullcandy Riff Wireless Headphone. It provides a very comfortable fit to the user because of its soft ear cushions that provide a firm fit that prevents the headphones from slipping off the user's head.
It comes in a very lightweight and durable design which is what makes it a favorable choice for long term purposes. The battery life of this headphone is also very long lasting. If you are someone who likes to travel a lot then you should consider purchasing these Skullcandy headphone.
Skullcandy Grind Bluetooth On-Ear Headphone
When it comes to buying a budget friendly headphone then you should purchase the Skullcandy Grind Bluetooth On-ear headphone. This professional quality headphone is very comfortable to wear and is easy to carry around being lightweight. Even if you are listening to music for hours you will easily do it because of the long battery life of these headphones. It lasts up to 12 hours so that you can enjoy clear audio quality for a long time.
The best part about using these headphones is that it allows the user to enjoy clear voice calls without any distortion. Therefore if you want a headphone that provides durable performance and is affordable then buy the Skullcandy Grind Bluetooth On-Ear Headphone.
Skullcandy Crusher ANC Wireless Headphone
If you want a headphone that is very easy to pair up with other devices then you should buy the Skullcandy Crusher ANC Wireless Headphone. It comes with a 24 hour long battery life. The main benefit associated with purchasing these headphones is that they provide a fast charging service to the users which means that you can easily carry these headphones with yourself when you are traveling because it doesn't require a lot of time for charging.
Skullcandy S21KDY Ink'd 2.0
Another highly affordable Skullcandy headphone is the Skullcandy S21KDY Ink'd 2.0. These headphones' design is very attractive and provides great comfort to the user. The earbuds are also available in different sizes so that you can choose the one that provides you the perfect fit.
You can easily play and pause the music on this headphone without any outside disturbance. Therefore it is highly recommended to buy this headphone if you want a variety of options to choose from.
Final words
For making it easy to reset Skullcandy headphones you will get the job done by going though this article. It has helped a lot of people and you will greatly benefit from it as well.