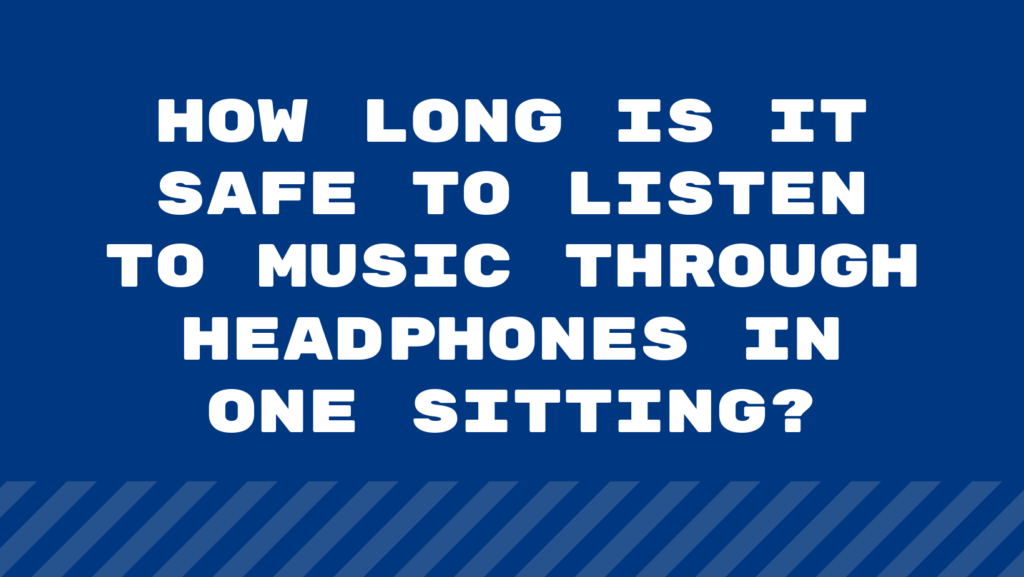 If you are someone who likes to listen to music every single day then it is very important for you to know the maximum amount of time that is healthy for you to listen to music when you are using headphones. If you listen to music excessively every single day with headphones then it can cause permanent hearing loss if you do not listen to music in moderation.
Some headphones do come with noise isolation features but still, it is not preferred to listen to music continuously for a very long time because it is not safe for the user. Therefore it is highly recommended to go through this article so that you get your hands on the most valuable information that will help you understand the best use of headphones for listening to music.
How Long Is It Safe To Listen To Music Through Headphones In One Sitting?
If you are someone who loves to listen to music most of the time then it is important for you to note that the safest time to listen to music continuously is 60 minutes. It should not be longer than that otherwise, it will cause hearing loss and other problems to you which is something that you should avoid. It is estimated that almost 12% of teenagers suffer from hearing loss due to excessive exposure to loud music. This number increases to 30% when these teenagers reach their 20s. Some of the hearing loss is so severe that it can lead to permanent hearing loss issues.
Almost 17% of the others in the age of 20-69 years old suffer from hearing loss which is a great number that needs to be controlled. One of the best which hearing loss can be controlled is by listening to music for a specific time of 60 minutes.
Headphone use causes hearing loss
Most people do not take this problem seriously but headphone usage can also lead to hearing loss if it is not controlled. The sound waves generated from the headphones can cause the eardrum to vibrate which spreads to other parts of the ear. This leads to electronics in most of the brain that interprets it as sound. When you are listening to music for a very long time at a higher volume than it can cause the hair cells to lose the sensitivity to vibration and cause them to bend which can lead to permanent or temporary hearing loss in individuals.
Most teenagers suffer from temporary or permanent hearing loss which is a serious problem if it is not controlled. This is the reason why it is not recommended to listen to high-volume music for a very long time while using headphones. Therefore world health organization has recommended that people should only listen to music continuously for 60 minutes a day.
How to reduce the negative effects of headphones?
There are certain ways through which you can reduce the negative effects of headphones. These methods are mentioned below:
Firstly you need to make sure that you are only using high-quality and reliable headphones that are also easy to use and do not break when you use them every day.
Make sure to clean the headphones internally and externally before and after using them so that no that remains inside and the headphones remain perfectly safe for use
Always make sure that you use your protection when you are listening to music in a loud environment such as loud concerts or nightclubs where the volume of sound is 105-120 dB
You should make sure that the headphone comes with the noise isolation feature and provides a protective covering as well
Earbuds vs Headphones
There are many people who are still confused about whether they should buy earbuds or stick to headphones. But it is very important to know that your earbuds are more dangerous to you as compared to headphones and are a source of a greater risk of hearing loss.
The earbuds are also difficult to clean as compared to using headphones which is another reason why you should not pay for buying earbuds. They should be treated very cautiously and are not suitable for those users who have to sit in loud or noisy environments most of the time. Prolonged use of earbuds can lead to dangerous hearing loss and other problems that you should avoid at all costs.
There are some people who even wear earbuds and they are sleeping which is very dangerous because you need to take your earbuds off before sleeping. However, if you want to cancel out external noise and want to enjoy a peaceful night's sleep if you live in a noisy environment then you can wear earbuds while sleeping. But make sure that you properly clean your ears as well as the earbuds before wearing them because it can lead to infection if you do not keep your ears clean as well as the ear buds.
Effective ways to prevent hearing loss
If you suffer from problems like hearing loss then there are some ways to which you can easily prevent hearing loss so that the rest can drastically be reduced.
Firstly you must make sure that you use some type of hearing aid when you are using headphones.
Try to limit your headphone usage as much as you can and only use it when it is needed for example if you have to work out and go to the gym then you can use the headphone but do not use it excessively for more than one hour a day
If you can purchase an external speaker then do so because it can help reduce the damage that is caused by wearing headphones
Final words
There's hardly any person in the world who doesn't like to listen to music but what makes it difficult to listen to your favorite song is when you use the headphones excessively because it is not safe to wear them for more than 60 minutes every single day as it can lead to hearing loss. By going through this article you will get enough valuable information that will guide you to proper usage of headphones.