Helmet headphones are like an extra layer of safety while you ride your motorcycle or drive your car, but they are also much more than that. They can provide entertainment, allow you to make hands-free calls, and even be used to listen to the radio while you commute. No matter what you need them for, the best helmet headphones can help improve your drive and keep your attention on the road ahead.
Understanding the importance of headphones, we are here to help you find the best helmet headphones and the features to look for before buying them.
What Are Helmet Headphones?
Helmet headphones are essential equipment for anyone who enjoys outdoor activities such as biking, skiing, and snowboarding. As the name implies, these headphones are designed to be worn inside a helmet for increased safety and comfort. They protect from loud noises and facilitate in enjoying favorite tunes while engaging in adrenaline-fueled activities. And also comes in many shapes and sizes, making it easy to find the perfect fit for any head size or helmet type. In addition, helmet headphones feature noise-cancellation technology and other features that allow for the best sound quality. Whether you are an avid cyclist or a casual skier, they can help you get the most out of your outdoor adventures.
The Features To Look For While Buying The Best Helmet Headphones
Helmet headphones provide several benefits for music lovers and adventure seekers alike. Here are some of the key elements to look for while buying the best helmet headphones;
Comfort – Must be designed to fit easily over the ears, providing superior comfort and stability during long rides. Adjustable straps for better fit are also a plus.
Noise Isolation – Must feature sound-isolating technology that blocks out external noise. It ensures that you can enjoy your favorite tunes without any external distractions.
Versatility – They should be compatible with almost any device, including smartphones, tablets, and MP3 players. It makes them perfect for listening to music while you're on the go.
Durability – Should be manufactured from high-quality material to withstand the demands of outdoor activities. It makes them perfect for rough rides and extreme conditions.
Enhanced Sound Quality – They must offer improved sound quality due to their superior design and advanced sound isolation technology. So, you can experience crisp and clear audio, even in noisy environments.
 Best Helmet Headphones Recommendations
Following are some of the advanced and best helmet headphones available in the market;
The Philips A6606 – offers the perfect combination of sound quality, comfort, and convenience. The headphones feature an open-ear design, allowing users to remain aware of the surroundings while enjoying a superior listening experience. The design features a bone conduction technology that transfers sound through the bones directly to the inner ear, eliminating the need for ear cups. It has a lightweight construction that offers superior comfort, and the advanced noise-cancellation technology blocks external distractions. Its rechargeable battery provides up to 8 hours of use per charge with a Bluetooth connection.
The Sena 5S-01D 5S – has an advanced noise control system that reduces wind and background noise to ensure clear communication, while the built-in FM radio keeps you entertained on the go. It features an audio multitasking feature that allows listen to music and GPS directions and talk to your fellow riders. It also features a simple one-touch operation system and long battery life.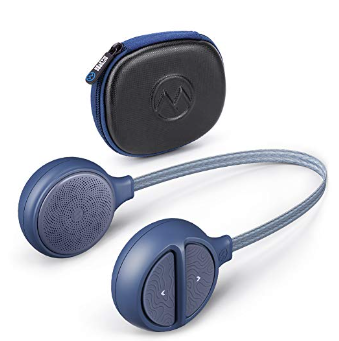 The OutdoorMaster Drop-in Headphones – feature a unique drop-in design that allows you to put them on and take them off without the hassle of using cables or earbuds. It has a built-in microphone to make and receive calls while riding and built-in controls for media playback and volume adjustment. The battery life is also impressive, giving up to 12 hours of playtime with a single charge. The noise isolation technology ensures that no outside sounds reach your ears, allowing you to enjoy your music without distractions.
They all are the latest and best helmet headphones from the most durable companies specializing in outdoor accessories. So, without any second thought, buy the ones that come within your budget and enjoy the adventure!
Stay tuned to hightechreviewer.com If you want more exciting guides and reviews regarding technology, stay tuned!
Read More: Best motherboard for i9 9900k