If you're one of those people who love to listen to music while snowboarding, then you'll want the top headphones for snowboarding available in the market right now to bring your music with you on the slopes. But how to choose the headphones? There are several factors to consider when choosing the best headphones for snowboarding, from the style and fit of your chosen earbuds or over-the-ear headphones to their durability and waterproof construction.
Snowboarding Season
Snowboarding season comes in different regions of the world, and in many places, the winter season is just around the corner.  For example, in North America, British Columbia, Colorado, etc. It is almost time for snowboarding enthusiasts to don their protective gear and take a spin on the slopes. Of course, before taking your board onto snow-covered slopes, it's important to make sure that you have all of your safety gear on and ready to go.
What To Choose? Earbuds Or Headphones?
When looking for a good snowboarding headset, there are a few things to keep in mind.
* If you're snowboarding with friends and want to talk, earbuds will work just fine.
* If you're snowboarding in a bustling area or somewhere where it's not safe to take your headphones off, then a headphone is going to be better.
* Weather conditions also play an important factor in what type of headphones you should buy for snowboarding. If it's cold outside, earbuds will work great since they don't cover as much skin as headphones would.
* In more humid weather, earbuds may make your ears sweaty and uncomfortable. In this case, a headphone is a better option because the material can wick away moisture so it won't make your ears feel sticky.
With these tips in mind when looking for the best headphones for snowboarding, you can find the perfect pair!
List Of Best Headphones For Snowboarding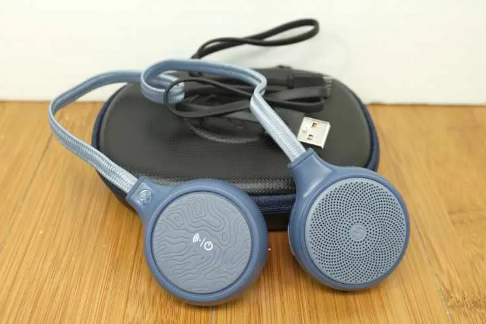 OutdoorMaster SNOW-BT01 – is a wireless blue-tooth headphone with universal helmet compatibility. It consists of wired chips equipped with 40mm drivers tuned to perfection and a CSR chip for euphonious resonance with an encrypted strong and stable connection ensuring a wonderful shredding journey on the slope. It can work perfectly fine on temperature less than -20˚C, with Up to 15 hrs playtime & 500 hrs standby time, and buttons that can be controlled with over three glove layers.
Sena SNOWTALK2-01 – is a universal blue-tooth headphone for snow helmets that work on battery. It has a built-in intercom that can connect with up to 4 headsets for communication in a range of 700m. Its operating temperature is -10˚C – 55˚C operating temperature with a talk time of up to 6.5 hours. Compatible with every type and size of helmet, designed in a way that buttons can be controlled through three layers of gloves.
Outdoor Tech Chips 3.0 – is a wireless blue-tooth headphone, compatible with all helmets. Its battery life is up to 15hrs and requires 45 minutes for charging. It has an operating temperature of -10-45℃. Can be operated with Siri and Google Assistant and allows calling and music.
All of these have the best speaker and microphone in them which makes them the best headphones for snowboarding.
Summary
We hope this list of the best headphones for snowboarding will be helpful. Remember, keep your head warm and enjoy your time on the slopes! The most important thing when it comes to outdoor winter sports is making sure you stay as warm as possible. Luckily, there are plenty of options available that allow you to not only stay warm but also listen to some tunes while you are getting all geared up or waiting in line at the top of a mountain.
Stay tuned to hightechreviewer.com If you want more exciting guides and reviews regarding technology, stay tuned!