Whether you are a professional singer, a music producer working in a recording studio, or a singer-songwriter entrepreneur, you need the best headphones on the market to help you produce top quality voice recordings. In fact, if you really want to be a successful singer or a successful recording artist you need to pay attention to the quality of your recordings to make sure that your music sounds the best.
Finding a pair of headphones to record vocals with can be a daunting task. There are many different models, from many different brands. So how do you choose? In this article, we'll look at the best headphones for recording vocals – from the budget set to the high-end.
10 Best Headphones For Recording Vocals 2022
1. V-MODA Crossfade M-80 Vocal Headphone
Crossfade M-80 is the ideal headphones for anyone who wants to record vocals. With its powerful 50mm dual-diaphragm drivers, you can hear every detail of your track with supreme clarity – making it perfect for all audio professionals. The rugged build and foldable design makes it easy to carry around and the hard metal housing provides extra protection against bumps and scratches.
The M-80 is compact and light weight enough to be worn for extended periods of time. The M-80 boasts dual-diaphragm drivers that separate bass from mids and highs; this separation enables the M-80 to reproduce audio with superior sound clarity and enhanced bass response. The headphone comes with swappable shields for style and comfort and noise isolation. The proprietary audio cable has a unique design and is easily replaceable in case of damage.
2. Audio-Technica ATH-M50X Professional Studio Headphone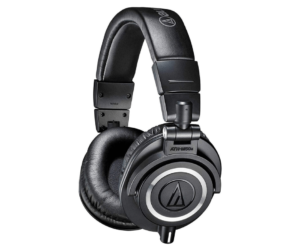 If you are looking for the absolute best pair of headphones for recording vocals, look no further than this Audio-Technica ATH-M50x Professional Studio Headphones.
ATH-M50x professional headphone feature a newly developed system of diaphragms and magnets that deliver extended frequency response with incredibly rich, detailed sound. The headphone produce powerful sound, yet remain comfortable during extended listening sessions. The closed-back design provides good isolation from outside noise, so you can listen at lower volumes. And the headphones professional-grade ear pads are made of durable, protein leather for lasting comfort.
The Audio-Technica ATH-M50x headphone offer 40 mm drivers and high-quality audio reproduction. and comes with a 3-year warranty from Audio-Technica.
3. Sennheiser HD 650 Open Back Professional Headphone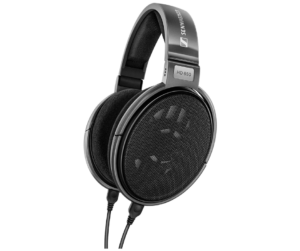 Sennheiser HD 650 is a professional-grade audiophile headphone that has been engineered to produce powerful sound. They are perfect for listening to music or mixing tracks, and they are also an excellent choice for recording vocals due to their open back design.
The HD 650 headphone features a unique design that produces powerful deep bass and clear highs that many music lovers love. The HD 650 has a unique twist to its design. Its ear cups features a ring of aluminum to help you get a comfortable fit around the ear. The HD 650 also features a unique headband design that will help you get a comfortable fit, while the ear cups rotate 90 degrees, this is great for DJ's.
The HD 650 headphones has a twistable design that will accommodate anyone wearing them, this is a boon for people who wear glasses. The HD 650 headphones come with a 3 meter long cable which makes it easy to move around when listening to music.
4. LyxPro HAS-10 Closed Back Over Ear Professional Headphone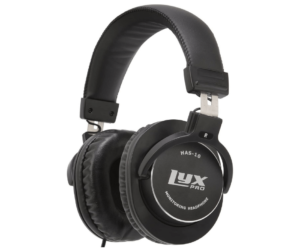 LyxPro has designed this professional headphone for recording vocals. The LyxPro HAS-10 Over Ear Professional Headphones are closed-back, making it perfect for vocalists to use in the studio without being distracted by background noises. It also improves isolation, allowing you to focus on what you need to do – sing!
This headphone features a comfortable headband with two-layer protein leather padding for superior comfort during long recording sessions. The HAS-10 has a high-definition, high-sensitivity driver that delivers true sound reproduction, accurate detail and impressive volume without sacrificing sound quality. The ergonomic design provides excellent comfort and long listening sessions.
The LyxPro HAS-10 headphones include three detachable cables, a 3.5mm cable, a 1/4 inch cable, and a 1/8 inch cable, giving you a variety of options to connect this headphone to a PC, a mobile device, or a mixing board.
5. Sony MDR7506 Professional Headphone
Sony MDR7506 Professional Headphone is a studio headphone. It is particularly great for recording vocals. The closed-ear design helps to isolate the sound, while the wide frequency response range makes sure that you hear every detail of what you're recording. This model is also very comfortable to wear for extended periods of time.
This headphone feature large 40mm drivers that pump out increased bass response and increased power handling for high volume listening without distortion. The closed-ear design makes these headphones perfect for loud environments like studios and DJ booths.
The MDR7506 provides great listening comfort for hours. Whether you are looking for long-term comfort or superior sound, this headphone delivers. These headphones are made to be taken seriously!
6. AKG Pro Audio K271 MKII Professional Studio Headphone
AKG K271 MKII is a professional studio headphone used by recording engineers for mixing and mastering. It has a closed-back design that offers an excellent bass response while maintaining a comfortable fit for extended periods of time.
These over ear headphones feature a fast transient response that delivers detailed, transparent sound. The headphones feature a special built-in amplifier that delivers the richest sound when connected to a high quality audio interface. The K271 MKII Headphones also come with a high quality detachable cable that is compatible with all audio equipment and a carrying pouch to protect and store the headphones when not in use.
These headphones are lightweight, have a swiveling earcup, are extremely comfortable to wear, and are collapsible for easy transport. They are made with rugged nylon headband and earcups. The earpads are made with leatherette ear cushions.
If you're looking for headphones that can provide you with a recording experience that closely matches what you hear in the control room, the AKG K 271 MKII should be at the top of your list.
7. Shure SRH1540 Closed-Back Over-Ear Headphone
The SRH1540 is a premium grade, closed-back, over-ear headphone with superior sound quality and comfort. It was designed specifically for professional recording studios, post-production facilities, film scoring stages and critical listening applications.
If you're getting frustrated with your vocals, you're not alone. In fact, many audio engineers have been there and have been forced to find a solution. The SRH1540 headphones from Shure have been designed with recording vocals in mind.
The closed-back earcups of the headphones provide background noise isolation so you can hear what's important. The headphone feature a detachable cable with a 3.5mm plug for use with a wide range of audio equipment including computers, mixers, sound cards, and portable media devices.
The Shure SRH1540 is the next generation of headphones that gives you the professional performance and comfort you need to accomplish your musical goals.
8. Beyerdynamic DT 770 PRO-250 ohms Studio Headphone
Beyerdynamic DT 770 PRO-250 ohms Studio Headphone is the same high quality that you have come to expect from Beyerdynamic, but in a headphone specifically designed for vocalists.
DT 770 Headphones are equipped with robust 50 mm neodymium drivers capable of handling high sound pressure levels. The closed-back design provides excellent sound isolation in loud environments, while padded headband and ear cup provide supreme comfort during long mixing or tracking sessions.
The Beyerdynamic DT 770 PRO has become the standard of recording studios around the world. It offers excellent frequency response of 5-35,000 Hz and an incredible sound pressure level of 108db. The circumaural, closed back design keeps the outside noise out and the music in. These headphones are an industry standard for vocal tracking, mixing, mastering, and sound recording. They are built to last and are designed to deliver exceptional sound quality. These headphones are perfect for your home or professional studio.
9. Sennheiser HD280PRO Headphone
Sennheiser HD280 PRO headphones are one of the best noise cancelling headphones for recording vocals in a convenient and affordable package. They provide an accurate reproduction and feature a newly developed transducer system with neodymium magnets for warm, natural sound reproduction.
Their closed back design creates a good seal around your ears, blocking out external noise and allowing you to fully immerse yourself in your music.
It features a lightweight, durable design for superior isolation from ambient noise. Its closed-back, dynamic, transducer system reduces background noise, and its standard quarter inch connector is compatible with most standard professional equipment. The HD 280 Pro offers a comfortable fit for long term wearing and its easy to adjust padded headband offers a personalized fit.
10. BEHRINGER HPS5000 Closed-Type High-Performance Studio Headphone
The HPS 5000 Studio Headphone from Behringer are a must-have for any studio. With a closed design and high-quality components, these headphones have been engineered to provide an incredibly accurate listening experience.
When it comes to sound quality, the BEHRINGER HPS5000 closed-type studio headphones represent the world's highest standards.
The headphone feature large 40mm drivers for high-definition sound reproduction. High-quality components ensure maximum signal fidelity and frequency response. These professional-grade headphones are suitable for mixing, mastering, stereo playback and studio tracking. And because the BEHRINGER HPS5000 headphones have a closed-type design, you can expect a realistic listening experience that is comparable to that of open-back studio headphones. Making the HPS5000 a must-have for all professional studios.
Conclusion:
If you are new to the world of recording vocals, you may be wondering what kind of headphones are best for recording. That's why we've created this guide to help you find the best headphones for recording vocals. Whether you're looking for professional headphones or just something to use in your home studio, you'll find the perfect pair here.
---
FAQS
What headphones should I use for recording vocals?
If you are recording vocals, you will generally want to use over-ear headphones. These headphones will be able to seal your ear canal, which will prevent you from hearing any other noises so that it will be easier for you to hear yourself sing. Because of this, you will be able to hear your voice better.
Should you record vocals with headphones?
It is not recommended to record vocals with headphones. The sound you hear in headphones is not the same one that the listener would hear in the final mix. If you want your vocals to sound right in the final mix, you will have to adjust them accordingly in the studio. If you use headphones, you will find it much harder to adjust your voice and to get the right sound.
What kind of headphones do singers use?
Singers use wired headphones. However, they are not like the wired headphones available in the market. The headphones used by singers are specially designed for them. These headphones are lighter, comfortable and compact. These headphones are generally expensive, but singers need them for convenience.
Is there a difference in quality between wired and wireless headphones?
Yes, there is a great deal of difference between the two. A wired headphone tends to offer a better quality of sound. This is because it is not affected by the Bluetooth connection, which means there will be no loss in sound quality. On the other hand, a wireless headphone relies on a Bluetooth connection, and this can cause a loss in sound quality.