Whatsapp is now a days one of the must have application in the latest smart phone. Whatsapp has completely taken over the SMS messages. People all around the world are now using whatsapp for communication with colleagues friends and much more. Whatsapp business account has also brought your business online in just 2 3 easy steps. With all this emergence, people switching phones from android to iphone face issues related to the transfer of whatsapp chat data which is really important now a days.
In the recent WhatsApp beta version 22.2.74 for iOS, there is a features which is pointing towards the change which will enable movement of whatsapp chat data from android to iphone using "Move to IOS" app as reported by WABetaInfo via (Android Central).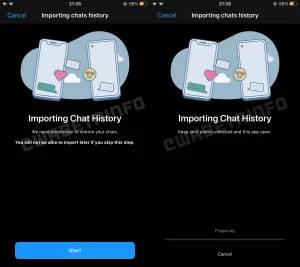 WABetaInfo has also published some of the images which are showing the transfer of data from android to iphone and according to pictures, app will ask permission to transfer data from whatsapp. You have to keep the app open in order to transfer data of whatsapp from one phone to another phone.
Whatsapp update in September 2021 allowed users to transfer data from iOS to android and then to Google afterwards. We are not sure if this update will allow transfer from specific devices or all devices. If there will be any update, we will share it with you accordingly.