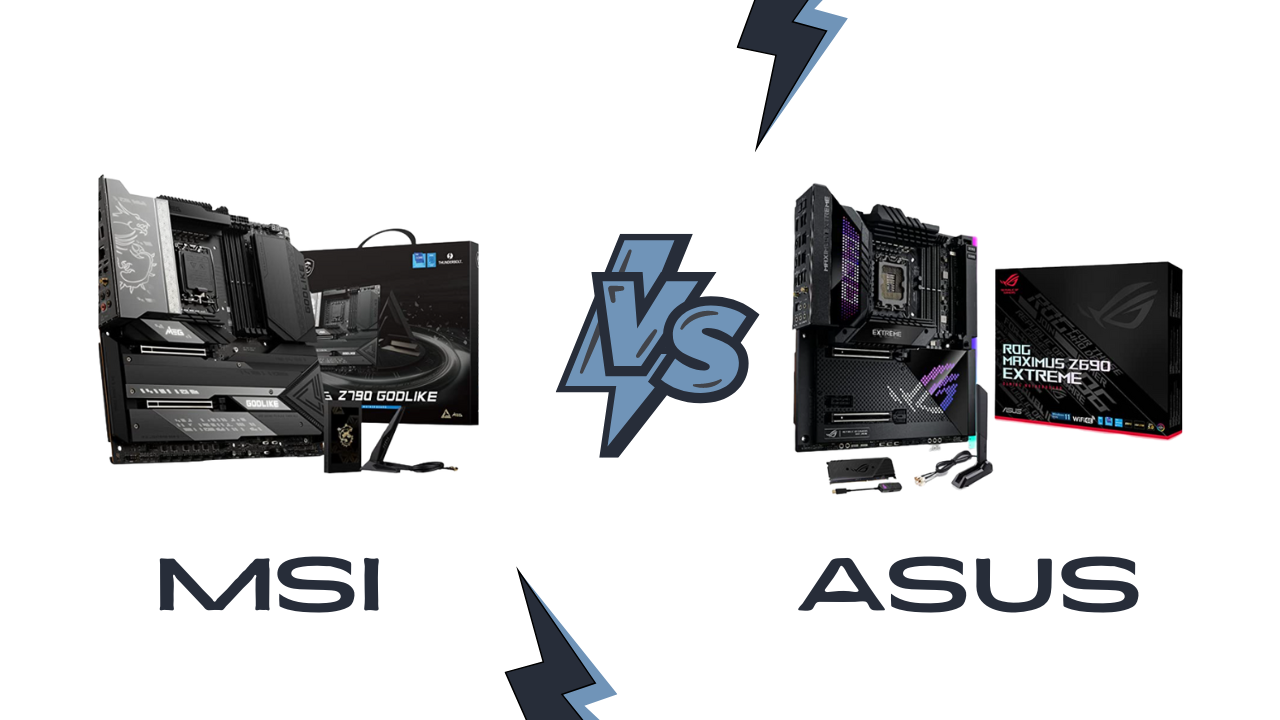 The two major manufacturers of motherboards are MSI and ASUS, and they both offer a variety of models with different features and prices. When it comes to choosing the right motherboard for your computer, there is no shortage of options. But which one is the better choice for you? Here, we'll compare MSI vs ASUS motherboards, and review their features, performance, and prices to help you make an informed decision about which motherboard is the best fit for your needs.
MSI and ASUS have been two of the leading providers of motherboards for decades, with both companies having deep roots in the computer hardware industry. MSI began in 1986 as a small company specializing in computer components, while ASUS was founded in 1989 by four Taiwanese engineers. Both companies have since become giants in the industry, manufacturing a wide range of computer components, including motherboards.
MSI is known for its cutting-edge designs and features, pushing the boundaries of what's possible with motherboards. Their products are favored by gamers and tech enthusiasts alike for their combination of performance and reliability.
ASUS has also made a name for itself in the world of motherboards, with a wide variety of models to choose from. They offer a range of boards for all types of users, from casual gamers to professional overclockers.
As two of the top motherboard manufacturers, MSI and ASUS have been competing for market share for decades. Both companies have constantly been pushing the boundaries of motherboard design and technology, offering more powerful and feature-rich models each year.
So, which one should you choose? Let's take a closer look at MSI and ASUS motherboards to find out which one is right for you.
Also Read: Best Overclocking Motherboard
MSI Vs ASUS Motherboards: Key Features
Features
MSI Motherboards
ASUS Motherboards
Memory Support
DDR5, Max memory capacity up to128GB
DDR5, Max memory capacity up to128GB
Chipset
Intel Z790, AMD X670
Intel Z790, AMD X670
OS
Windows 11 64-bit, Windows10 64-bit
Windows 11 64-bit, Windows10 64-bit
Over-Clocking
7600+(OC) MHz
7600+(OC) MHz
Connection
USB 3.3 Gen 2×2 Type-C
USB 3.3 Gen 2×2 Type-C
Network Connectivity
Wi-Fi 6E, 2.5Gbps LAN, Bluetooth 5.3, FIPS, FISMA
Wi-Fi 6E, 2.5Gbps LAN,
Audio
Realtek ALC4080 Codec
ROG SupremeFX 7.1 Codec S1220A
Speed
PCIe 5.0 slot, Lightning Gen 5 x4 M.2, USB 3.2 Gen 2×2
PCIe 5.0 slot, M.2 slots, USB 3.2 Gen 2×2
Onboard Graphics
HDMI 2.1 with HDR 4K 60Hz
VGA resolution, 8K 60Hz DisplayPort 1.4, 4K 60Hz HDMI 2.1
Power Design
19+1+1 phases power
24+1 phases power
Thermal Solution
Heatsink with heat-pipe,
MOSFET thermal pads, choke thermal pads, and M.2 Shield Frozr
AI Cooling II, ROG Fan Controller
MSI Vs ASUS Motherboards: Recommendations
MSI Vs ASUS Motherboards: MSI Motherboards
| Design | Model | Retailer |
| --- | --- | --- |
| | MSI MEG Z790 GODLIKE Gaming Motherboard | Check Price |
| | MSI MEG Z790 ACE Gaming Motherboard | Check Price |
| | MSI MPG Z790 Carbon WiFi Gaming Motherboard | Check Price |
| | MSI MAG B760M Mortar WiFi Gaming Motherboard | Check Price |
| | MSI MAG B760 Tomahawk WiFi DDR4 Gaming Motherboard | Check Price |
MSI Vs ASUS Motherboards: ASUS Motherboards
MSI Vs ASUS Motherboards: Detailed Comparison
| | |
| --- | --- |
| MSI has focused on giving a greater assortment of entry-level boards with higher performance at a cheaper price point | ASUS has opted for a more balanced approach, they offer higher-end models for those willing to pay for better features and performance |
| MSI motherboards are renowned for their strong, dependable, and highly effective components. They offer sophisticated overclocking options that make it simple for consumers to modify the system and maximize their hardware. | ASUS motherboards are renowned for their premium parts and high level of efficiency. They also include a number of technologies that improve performance and standardize overclocking. |
| To provide the finest gaming experience possible, MSI motherboards have cutting-edge cooling systems and improved audio capabilities. Additionally, they provide a number of tools that let players customize their PC for the best possible gaming experience. | ASUS motherboards also provide great gaming performance with their support for multiple GPUs, and also feature advanced cooling technologies for improved stability and maximum speed. |
| | |
| --- | --- |
| MSI motherboards come in three main price points: budget, mid-range, and high-end. For budget boards, you can expect to pay around $100-$200 for a basic board. If you're looking for something a little more advanced with more features and customization options, you can expect to spend around $200-$700. MSI also offers some higher-end boards that will cost anywhere from $800-$1000 or more. | ASUS offers motherboard models at a variety of price points. Budget boards start at around $250, while mid-range boards can cost up to $400. High-end boards from ASUS are typically priced between $800-$1000. However, they also offer some extreme models that cost upwards of $1000. |
| | |
| --- | --- |
| Mini-ITX: MSI Mini-ITX motherboards are the smallest form factor, providing a compact solution for small-form-factor builds. They typically have fewer ports and slots than larger form factors, allowing for fewer expansion options. | The ROG series is focused on gaming, with features like customizable RGB lighting, overclocking capabilities, multi-GPU support, integrated Wi-Fi, and advanced cooling solutions and solid performance for intense gaming sessions. |
| MSI Micro-ATX motherboards are slightly larger than Mini-ITX models and offer more expansion options. This form factor allows for multiple graphics cards, up to four DIMM slots for RAM, and extra PCI Express (PCIe) slots. | The TUF Gaming series offers reliable components and gaming-specific features like Fan Xpert 4 Core and GameFirst for durability and reliability. |
| ATX motherboards from MSI are the most popular form factor. These models are slightly larger than Micro-ATX models and offer up to eight DIMM slots for RAM and additional PCIe slots. | The ProArt series features tailored for content creators such as an AI Overclocking utility and ASUS ProArt Calibration technology for color accuracy. It is designed for professionals who need reliable performance for content creation. |
| E-ATX motherboards from MSI are the largest form factor and offer maximum expandability with up to twelve DIMM slots and multiple PCIe slots. They are ideal for workstations or high-end gaming rigs. | The Prime series is tailored for everyday users who want an easy setup process with a balance of performance and value. The Strix series is geared toward gamers who demand extreme performance. It features has gaming-grade components and enhanced audio performance. |
Specifications
| | |
| --- | --- |
| MSI motherboards come equipped with the latest tech, including support for Intel Core i9 and AMD Ryzen 3000 series CPUs, Dual Channel DDR5 memory, USB 3.2 Gen 2×2 ports, 6E Wi-Fi and Bluetooth 5.0, M.2 storage slots, and more. | ASUS motherboards also boast impressive tech specs. The boards are powered by the latest Intel Core processors and AMD Ryzen CPUs, feature support for dual-channel DDR5 RAM, USB 3.2 Gen 2×2 ports, plus 6E Wi-Fi and Bluetooth 5.0. |
| MSI offers additional features such as AI Overclocking and Dragon Center to get the most out of your setup. | Additional features such as ASUS AI Overclocking and ASUS Aura Sync lighting offer additional performance and style options for your setup. |
MSI Vs ASUS Motherboards: The MSI Family
The product lines of MSI motherboards includes a wide variety of options. MSI offers both entry-level and high-end motherboards for gaming, as well as general-purpose boards for everyday use. Looking at the different models within company's product line, there are several differences to be aware of.
The company offers several series to choose from, such as Mini-ITX, Micro-ATX, ATX, and E-ATX, each of which offers different features and specifications. They typically offer an extensive range of features and customizable options, such as RGB lighting and overclocking capabilities.
MSI has gained a reputation for being the leader in gaming-focused motherboards, and many gamers have praised the quality of their boards. They are widely regarded as the most reliable when it comes to compatibility with the latest components and technologies.
MSI motherboards deliver high performance and reliability, offering gamers and enthusiasts the best gaming experience. MSI offers advanced features and premium components such as Military Class 4 components and Hi-C capacitors that ensure maximum durability and stability. With all these features, they are a great choice for gamers and enthusiasts looking for the best performance.
MSI Vs ASUS Motherboards: The ASUS Family
ASUS is known for their exceptional design and reliability, and it has been producing top-tier motherboards for decades. Their latest offerings are no exception. It include a wide variety of products, ranging from entry-level models to powerful enthusiast boards.
ASUS offers a wide range of motherboards for users to choose from. Their product lines include the ROG, TUF Gaming, ProArt, Prime, and Strix series. Each series caters to different needs, from gaming and content creation to daily use. Such as ROG series which is tailored towards hardcore gamers and PC enthusiasts, their TUF series which is designed for reliable and long-lasting performance, and their Prime series which is the entry-level option for those on a tighter budget. ASUS motherboards tend to focus more on providing robust and reliable performance, with fewer bells and whistles.
ASUS is seen as the more affordable option and they are well known for providing reliable motherboards at an affordable price. They are considered to be a good choice for budget builds and also provide a wide range of mid-range to high-end motherboards.
Regardless of which ASUS motherboard you choose, you can be sure that you're getting a board that's been designed with quality in mind. They use premium components and robust power delivery systems to ensure long-term reliability. On top of that, they also come with a comprehensive warranty program that offers repair or replacement if anything goes wrong.
MSI Vs ASUS Motherboards: pros and cons
In order to make a choice between MSI vs ASUS motherboards, it is necessity to look for the advantages and disadvantages of having one;
MSI Motherboards
Final Thoughts On MSI Vs ASUS Motherboards
When it comes to choosing between MSI and ASUS motherboards, few key points should be considered and compared; pricing, performance, memory, slots, cooling system and overclocking capabilities. On the other hand, both brands have a good reputation and offer reliable performance.
However, ASUS motherboards tend to have more features, a better design, and more overclocking potential. On the other hand, MSI motherboards offer better cooling and may be better suited for gamers.
Ultimately, the best motherboard for you depends on what you're looking for in terms of features and performance. With this in mind, it's important to do your research and compare models side by side before making your final decision.