Nowadays, tablets are no longer simple media consumption devices. They have become a powerful tool to assist truck drivers. By using a tablet and an ELD, truck drivers are able to record, monitor and transmit their driving logs in real time.
Use of electronic logging device is a regulatory requirement for most commercial vehicles. Having a tablet is a good way to keep logs, as instead of fiddling with paper logs, an ELD tablet can be used. Here are some of the best tablet for ELD logs.
What is an ELD?
An ELD is an Electronic Logging Device, which is also known as an Electronic Logging Apparatus or just simply an ELD. It is a device or software that records the driver's hours of service and vehicle's use. The ELD device is paired with a smartphone or tablet that is either installed on the truck or in the cabs, which is able to calculate the hours of the "duty status". The ELD collects the information and transmits it to the supporting electronic on which the driver is registered.
Best Tablet For ELD Logs 2022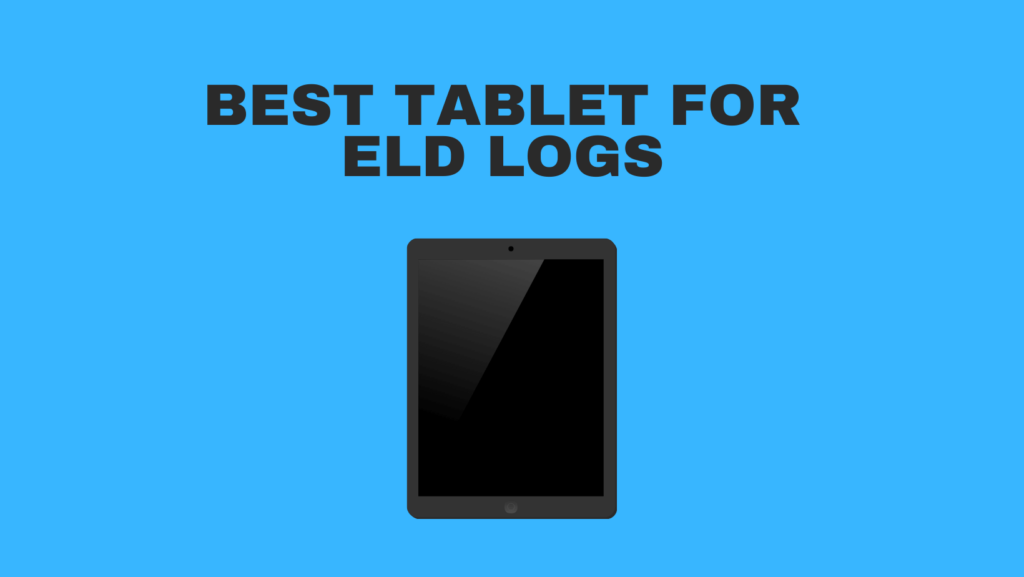 1. Rand McNally TND 750
The Rand McNally TND 750 was designed with truck drivers in mind and is compatible with the ELD mandate. The professional truck drivers' tablet features a 7 inch high definition touch screen display, making it easy to read and use while you are on the road. The TND 750 is a GPS truck navigator that enables you to enter your destination and have it read back to you by the navigation device so you do not have to take your eyes off the road.
The tablet features easy-to-use software that will help you track driving hours and record electronic logs. The tablet is designed to work with the My Rand McNally software and Orion ELD to help you keep your Hours of Service compliant. The software tracks your Hours of Service and truck speed for you, so you do not have to. It then generates an accurate and compliant ELD report that you can submit to your motor carrier.
The TND 750 comes equipped with two 2.0 USB ports allowing you to charge two devices at once. Additionally, the display can be rotated to accommodate left or right handed operation.
2. Rand McNally TND 550
Rand McNally TND550 is a handy GPS device that extremely helpful in keeping track of your driving hours and ELD log. So if you are planning to become an independent trucker, this GPS is an ideal choice for you.
The large display makes it easy to read, and the clear plastic allows you to position it on the dash of your truck without obstructing your view. The large buttons are easy to use while driving, and it has been pre-programmed with popular trucking routes to help you get from Point A to B faster. It also includes a Rand McNally trucking app that makes it easier to use.
This portable GPS system is operated with the help of a bright, 5-inch dual-orientation display. An intuitive touchscreen helps you choose between multiple options, including those for driving directions, ordering POI and entering data. This screen can be flipped for both landscape and portrait view and has customizable icons for easy navigation. The included 32GB internal memory provides ample space for all your entered data, including up to 18 hours of logged driving.
3. Rand McNally TND 85
The Rand McNally TND 85 is the best tablet for logging and recording ELD information. It is designed for logging and recording driving time and hours of service. This device provides the driver with an enhanced driving experience along with all of the features you need to stay in compliance with the hours of service regulations.
The tablet's built-in Automotive Evolution GPS chipset delivers lightning-fast position updates, so drivers can pinpoint their exact location in the shortest time possible. Advanced ELD functionality allows drivers to record and transmit trucking data seamlessly. The TND 85 also offers a number of useful features for truckers, including a customizable home screen, a customizable quick-start menu and the ability to view 2-D and 3-D maps.
This tablet has all the power it needs to navigate the roads, record your daily activities and keep you compliant, all at a price that won't break the bank.
4. Garmin dezl OTR800
Garmin dezl OTR800 GPS provides easy-to-use navigation for professional drivers. The truck GPS navigates you with enhanced truck-specific routing and gives you the tools you need to track and manage your hours of service. A 8-inch display, ruggedized design and lifetime map and traffic updates are included. The dezl OTR800 is compatible with the ELD mandate and includes a dedicated Trucking mode with ELD pre-loaded. With integrated Wi-Fi, your logbook data transfers to your computer with ease.
Featuring Garmin Guidance 3.0, it provides lane guidance, junction view and visual directions front and back along the most popular routes. The device also displays current speed limit, speed limit changes and speed limit warning alerts, while built-in speed limit data is available for the U.S. and Canada. Additionally, the OTR800 includes an updated user interface that provides an improved experience for search, sort and page through functions.
5. Garmin dezl OTR700
This is the best ELD tablet to log your driving hours and record ELD information.
The device comes with a large 7-inch display and a touchscreen. It can be paired with a Bluetooth and a USB cable. There is an SD Card slot for memory and a built-in speaker. It is lightweight and has a large battery to keep it going without interruption. The DEZL OTR700 accurately records driving hours and is easier on the eyes as well.
The Garmin dezl 700 can also help you avoid trucking accidents by giving you voice alerts when you're approaching hazardous curves and other obstacles. It also offers a feature called "Where Am I", which will help you get your coordinates any time you need to. All you have to do is to key in the coordinates and it will do the rest. The Garmin dezl 700 is considered to be the best tablet for truckers to operate on.
6. Garmin dezl 580 LMT-S
Garmin's dezl 580 Trucking GPS is designed for logging and recording ELD information, keeping track of hours of service and driving time, and giving professional drivers the information they need to get their job done. The dezl 580's 5" touchscreen is bright and easy to read, and it comes with lifetime maps, lifetime traffic avoidance and trucking specific routing to get you where you need to go as quickly as possible. It also integrates with popular trucking software, so your logs are always complete and accurate.
The dezl 580 LMT-S pairs with your smartphone to provide you with the information you need, such as the text messages, smartphone app notifications, new emails and more.
The integrated dash cam automatically records your drive and saves precious footage in case of an accident. The fuel-saver feature helps drivers identify optimal driving times and take advantage of opportunities to save fuel. Additionally, this truck GPS comes equipped with a preloaded trucking-friendly map of the United States and Canada.
Conclusion:
When it comes to choosing the best tablet for ELD logs, you want to buy something that is built specifically to be used in a truck. You also want something that is easy to use, and something that has been designed with truck drivers in mind. That's why we recommend the Rand McNally TND 750. It is designed specifically to be used by truck drivers, so it is easy to use and the interface is easy to navigate. The tablet is also built to be easy to use from the driver's seat of a truck, which is important for keeping your eyes on the road and off the tablet.
---
FAQ
Can you use a tablet for ELD?
Yes, you can use a tablet for ELD, But In order to use the ELD on a tablet, you must have the ELD hardware.
What is an ELD tablet?
An ELD tablet is an electronic logging device carried by the truck drivers and used to monitor the driving hours.