Headphones are an essential part of any beat makers collection and having the right pair of headphones can make you a better beat maker. Using the wrong pair of headphones will limit your ability to produce music. Whether you are a professional beat maker or just starting out, we can help you find the best headphones for beat making.
Best Headphones For Beat Making 2022
1. Audio-Technica ATH-M50X Headphone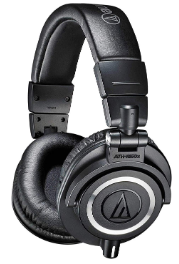 Audio-Technica ATH-M50x headphone feature a spacious, accurate soundstage reproduction and a reference-class sound. It is ideal for recording, mixing, mastering, and critical listening.
The ATH-M50x headphone is engineered with the same award-winning 45 mm large-aperture drivers, bronze-alloy voice coils, and pro-grade materials and craftsmanship as the critically acclaimed M-Series line. The closed-back, collapsible, ear-cup design provides a comfortable listening experience and outstanding sound isolation.
The ATH-M50x is an Over-Ear, Closed-Back design utilizing a Dynamic StableFrame headband and comfortable protein leather ear pads to provide hours of fatigue free listening. The ATH-M50x features a 45mm True Motion Drivers with rare earth magnets and copper-clad aluminum wire voice coils. The Audio-Technica ATH-M50x is the premier choice for discerning audio professionals and audiophiles seeking a high performance headphone.
2. Sony MDR7506 Headphone
Sony's MDR7506 is the best headphone for beat making or recording vocals because of its powerful bass response, clear mids, and crisp highs.
The Sony MDR7506 is more than equipped to handle the rigors of day-to-day wear. The headphone comes with a 9.8-foot cable and a gold-plated 1/8-inch connector. It has a comfortable adjustable headband that sits on top of the head and is covered with leather. The ear-cups are covered with soft padding, and they can be rotated in 45-degree increments. They sit on the ears without pressing against them.
It provides good isolation from background noise and allows for accurate mixing. The closed back design helps block out sound from the outside while providing a nice, rich sound. The MDR7506 is a perfect choice as a main headphone in a home or project studio.
3. Beyerdynamic DT 770 PRO Headphone
Beyerdynamic DT 770 PRO are legendary closed studio headphones known for their smooth, natural and transparent sound. Designed for professional users such as sound engineers and music producers, these headphones are used daily in professional recording studios.
The fully enclosed ear cups and adjustable headband give you a secure and professional fit, and the open-air design lets your ears breathe so you can listen to your music for hours without getting fatigued. The DT 770 PRO headphones are equipped with a flexible coiled cable that saves your desk space and keeps the performance clean.
Extremely accurate and natural sound reproduction is a key feature of this model. The high quality sound is the result of the extremely flat frequency response and the excellent impulse fidelity. The DT 770 PRO is the first choice for many audio engineers and music producers who take their work seriously.
4. AKG Pro Audio K702 Headphone
AKG's K702 is one of the most highly regarded and sought after headphone in the world and easily competes with the best headphones. People rave about the rich, detailed, accurate sound and the comfortable, durable build. Perfect for studio mixing, beat making, mixing on the go, in the field recording, DJing, home and professional use.
Its closed-back design provides superior listening isolation and comfort for hours, delivering a balanced, clear sound that lets you focus on what's important: your music.
The AKG headphone offers wide frequency response and deep bass. The headphone comes with the soft ear cushions that ensure maximum comfort and isolation.
The AKG K702 is a must-try in the headphone market with its clear, detailed and powerful sound.
5. Audio-Technica ATH-R70x Headphone
The Audio-Technica ATH-R70x is the best Headphone for Beat Making, DJ and Music Production. They also offer best Headphone for Recording Vocals! This headphone has been designed for critical listening, as well as casual use.
The closed-back ear cups help prevent outside noise interference, allowing you to hear more clearly, and the gold-plated plug improves audio quality with lower resistance. ATH-R70x have a headband padded with protein leather and a soft, expanded cushion earpads that fit comfortably around your ears, blocking out noise and creating a warm, enveloping sound. It also have a 19-foot, oxygen-free copper cord to protect against electromagnetic and radio frequency interference. The cord is also tangle-resistant.
This closed-back headphone is designed to eliminate unwanted background noise while recording, so you can use a greater amount of audio signal.
6. AKG K 240 MK II Headphone
AKG K 240 MK II is one of our top picks for beat making because it offers flat frequency response, accurate detail reproduction, and a full-bodied but natural low end.
It features an expansive soundstage that accurately reproduces the sound of each instrument, which makes listening to music more enjoyable. The K 240s provide enough comfort for long mixing sessions. Additionally, it is comfortable enough to wear while tracking vocals. The earpads feel wonderful against the skin thanks to their soft synthetic leather
The K 240 MK II is a two-way, closed back dynamic headphones that deliver outstanding transparency. The large-aperture drivers and optimally tuned port system create a balanced sound pressure, allowing the headphones to deliver an outstanding bass response. The AKG K 240 MK II also feature a new, breathable self-adjusting headband, which makes them even more comfortable for long listening sessions. Besides the studio, this headphone is ideal for enjoying music at home.
7. Sennheiser HD 280 Pro Headphone
Sennheiser HD 280 is the most widely used, best headphone for beat making, recording vocals, recording instruments.
This Sennheiser HD 280 Pro headphone features a closed-back, over-the-head design that provides high-level noise isolation. An adjustable double-sided cable is built into the ergonomic ear cups of these best headphones for music production. You can position the headphone cable over the left or right ear with the Sennheiser HD 280 Pro Headphone's single cable design.
The HD 280 PRO Headphones feature a comfortable pressure pad and light-weight, adjustable headband so they can be worn for long hours while you work. The headphones adjust to fit anyone and they fold up for easy storage and transportation. The Sennheiser HD 280 Professional Headphones are the best investment you can make for your studio!
Conclusion:
The Audio-Technica ATH-M50X is the best headphones for beat making. They have an excellent frequency response, which will let you hear the different parts of the song in the tones they were meant to be heard in. They also have a closed back so you don't have to worry too much about sound leakage, which can be a real problem when you're trying to listen to a song and it sounds like a crowd is listening with you.