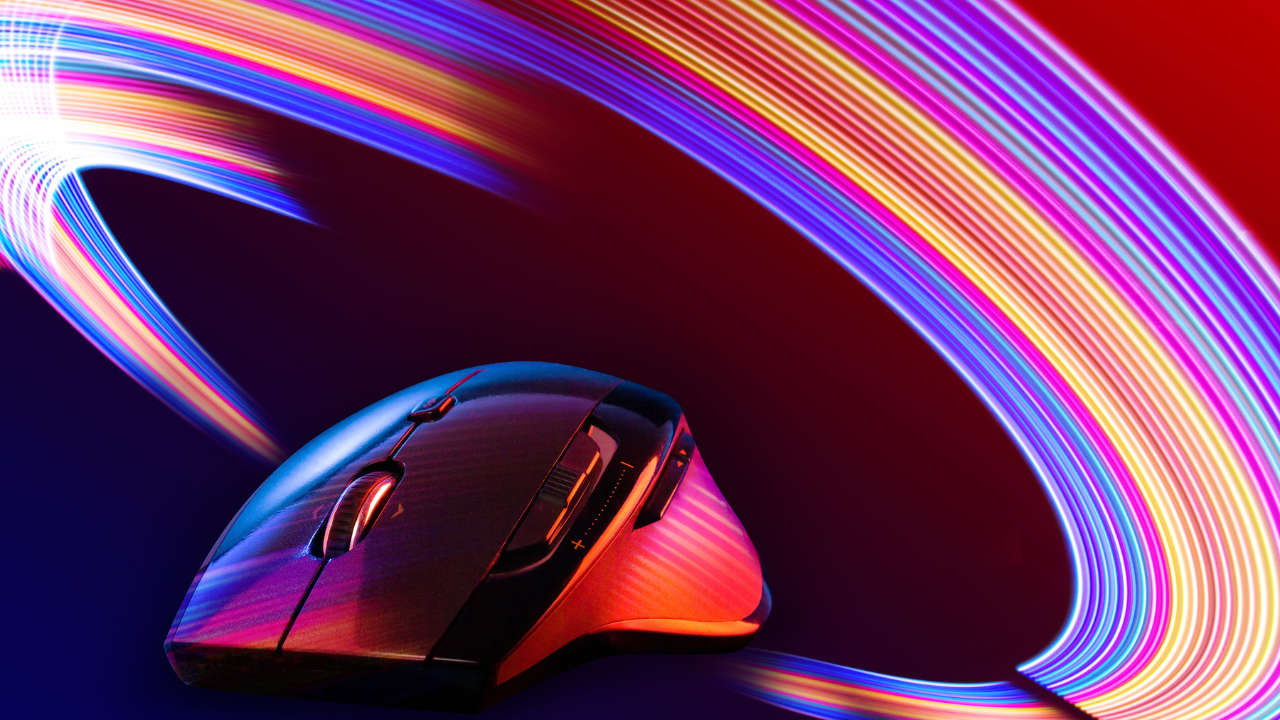 The rainbow gaming mouse are becoming increasingly popular due to their unique design and features, and there's much to learn about them. This review will discuss everything you need to know about rainbow gaming mice, from their unique features to why they're a great choice for gamers. We'll look at how they compare to each other and discuss the pros and cons of each rainbow gaming mouse.
When it comes to choosing the right gaming mouse, you have a lot of different types to choose from. Depending on your gaming style, you might prefer one mouse over another. Here's a breakdown of the different gaming mice available on the market.
Optical mice are the most common type and use an LED light to track movements. They provide precision tracking but require a flat surface to work properly. Next, laser mice are more precise than optical ones but require special mats to function correctly. They also tend to be heavier and more expensive than optical mice.
The third type is wireless gaming mice. These mice provide the same level of accuracy as wired mice but with the convenience of not having a cord in the way. However, some gamers complain about lag and reliability issues with wireless mice.
No matter which type of gaming mouse you choose, you'll be able to find one that fits your needs and budget. So read on!
Also Read: Best White Gaming Mouse
Rainbow Gaming Mouse: Recommendations
Rainbow Gaming Mouse: Specifications
ROCCAT Kone XP Air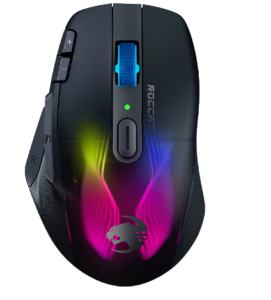 | | |
| --- | --- |
| Brand | ROCCAT |
| Connectivity | 2.4GHz wireless, USB-C, and Bluetooth |
| Sensor | 19K DPI Optical Owl-Eye Sensor |
| Programmable Buttons | 29 programmable inputs with Easy Shift[+] Button |
| Battery Life | Up to 100 hours |
| Date First Available | July 26, 2022 |
The ROCCAT Kone XP Air is a gaming mouse designed with the utmost precision and comfort in mind. It is lightweight, ergonomic, and offers several features that make it stand out.
In terms of its design, the Kone XP Air has an ergonomic shape that allows for maximum comfort while playing. It also weighs just 99 grams and is made of a durable plastic body, allowing it to withstand long hours of gaming. The Kone XP Air also has an adjustable lift-off distance and an eight-step LED brightness feature.
The Kone XP Air also has several programmable buttons, including two DPI hotkeys, 10 dedicated buttons, and 4D scroll wheel that extends to 29 programmable buttons with Easy Shift[+] duplicator technology. It allows for more customization, allowing gamers to set up their mouse according to their preferences.
Finally, the Kone XP Air is equipped with a detachable cable, making it easy to move around when needed. The battery can stay active for up to 100 hours after full charging, and in just 10 minutes of charging, it can provide 5 hours of play time. It is also compatible with Windows and MacOS X operating systems.
Overall, the ROCCAT Kone XP Air is an excellent choice for gamers who are looking for an ergonomic and lightweight rainbow gaming mouse that provides great performance and customization options. Its adjustable lift-off distance and eight-step adjustable LED brightness make it a great choice for serious gamers.
SteelSeries Aerox 5 Wireless Gaming Mouse
| | |
| --- | --- |
| Brand | SteelSeries |
| Connectivity | 2.4GHz wireless, USB-C, and Bluetooth |
| Sensor | 18K DPI TrueMove Air Optical |
| Programmable Buttons | 9 |
| Battery Life | Up to 180 hours |
| Date First Available | April 12, 2022 |
The SteelSeries Aerox 5 Wireless Gaming Mouse is a high-end rainbow gaming mouse designed to provide users with an unparalleled gaming experience. This mouse features an adjustable laser sensor that can be adjusted up to 18,000 DPI, giving you the ultimate accuracy and control while gaming.
It also has RGB lighting that allows you to customize your lighting and create your unique gaming environment. This mouse offers maximum comfort and precision with an ergonomic design and adjustable buttons. It features IP54-rated AquaBarrier to protect interior circuitry from dust.
The SteelSeries Aerox 5 Wireless Gaming Mouse also features 9 programmable buttons that allow you to quickly access the functions you need for gaming. The battery life allows to play up to 180 hours with a single and fast charging provides 40 hours of play time from 15 minutes charge.
Additionally, the 1ms response time ensures that your gaming actions are executed in a fraction of a second. This mouse is designed for right- and left-handed users, making it ideal for gamers of any skill level. With its lightweight design, the SteelSeries Aerox 5 Wireless Gaming Mouse is perfect for long gaming sessions.
FELICON Wireless Gaming Mouse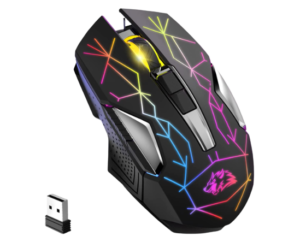 | | |
| --- | --- |
| Brand | FELICON |
| Connectivity | 2.4G USB Nano Receiver |
| Sensor | Optical Sensor with 3 level adjustable DPI |
| Programmable Buttons | No |
| Battery Life | Up to 30 hours with lights and 50 hours without light |
| Date First Available | Feb. 21 2022 |
This gaming mouse from FELICON is a great choice for gamers who need an ergonomic and high-performance mouse that looks great. It features a silent rainbow RGB backlit, a 2.4G USB nano receiver, an optical sensor with 3 levels of DPI, and an ergonomic design to fit any hand size.
The FELICON mouse is compatible with Windows/Mac/Vista systems and provides maximum responsiveness and accuracy. IT also has a rechargeable battery with a long life, making it perfect for those long gaming sessions. It has a sleek black finish, which adds an extra element of style and sophistication.
The precision and sensitivity of this rainbow gaming mouse makes it ideal for professional gamers and those who want to take their gaming to the next level. With its wide array of features, this gaming mouse will surely give you the competitive edge you need to win!
Razer Basilisk V3 Customizable Ergonomic Gaming Mouse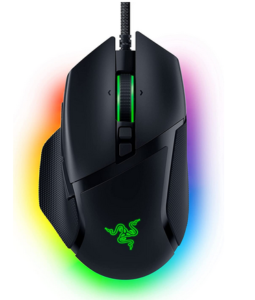 | | |
| --- | --- |
| Brand | Razer |
| Connectivity | Wired |
| Sensor | 26K optical Sensor |
| Programmable Buttons | 11 |
| Battery Life | Wired |
| Date First Available | September 8, 2021 |
The Razer Basilisk V3 is the latest rainbow gaming mouse from Razer that offers customizability and ergonomics for a comfortable gaming experience. The mouse features an improved optical sensor with up to 26000 DPI and a new design that makes it perfect for claw and fingertip grip styles.
The mouse also has 11 programmable buttons and five RGB lighting zones that can be customized to create an immersive gaming experience. The Basilisk V3 also features an adjustable scroll wheel resistance and a removable side plate to further customize the mouse's fit.
In addition, the ergonomic design includes a rubberized top surface and side grips for added comfort during gameplay. The Razer Basilisk V3 also has a one-year warranty and is compatible with Razer Synapse 3. It allows gamers to store profiles, customize macros and remap every button on their mouse.
With its combination of performance, customizability and ergonomics, the Razer Basilisk V3 is the ideal choice for serious gamers looking for a competitive edge in their gameplay.
Logitech G203 Wired Gaming Mouse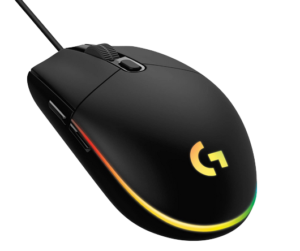 | | |
| --- | --- |
| Brand | Logitech |
| Connectivity | USB |
| Sensor | Adjustable 200-8K DPI Optical Sensor |
| Programmable Buttons | 6 |
| Battery Life | Wired |
| Date First Available | April 21, 2020 |
The Logitech G203 Wired Gaming Mouse is a great choice for gaming. It has a comfortable and ergonomic design with a 6-button layout, adjustable RGB lighting, and adjustable polling rate.
The G203 offers an 8000 DPI sensor that provides accurate and precise tracking, making it great for those who like intense gaming. The mouse also features onboard memory, so you can store up to five profiles and programmable buttons for customizing the controls of your favorite games.
It has an onboard weight tuning system that allows you to adjust the mouse's weight to fit your gaming style. With this feature, you can add or remove up to five 3.6g weights, so you can customize your mouse to perfectly suit your needs.
For added durability, it has a 10 million click lifespan, ensuring it will last you through your gaming journey. The Logitech G203 is the perfect rainbow gaming mouse for anyone looking for a reliable yet budget-friendly mouse to elevate gaming experience.
How to Choose the Best One?
It's crucial to choose the right rainbow gaming mouse for your needs. Knowing which model or feature to choose can be challenging with so many options. Here are some points to assist you in making the best choice:
Think about your budget: Depending on your budget, you may have more or fewer options available. Consider what you can realistically afford when selecting a gaming mouse.

Consider your grip style: Are you a palm, claw, or fingertip gamer? Each grip style has different needs, and finding the right mouse with the right shape for your grip style is essential to having a good gaming experience.

Consider the sensor: The sensor is responsible for tracking your movements, and higher-quality sensors will provide better accuracy and performance. Make sure to research what type of sensor the gaming mouse you're considering has.

Check the features: Different gaming mice have different features designed to make gaming easier and more enjoyable. Check if the gaming mouse you're looking at has features like adjustable weights, programmable buttons, and customizable RGB lighting.

Test it out: Try the gaming mouse in person. This way, you can get a feel for how it feels in your hand and see if it meets your needs.
By keeping these tips in mind, you should be able to find the perfect gaming mouse for you. Research, compare features, and find a comfortable mouse that meets all your gaming needs.
Conclusion
Rainbow gaming mice are a great way to upgrade your gaming experience. They provide superior accuracy and sensitivity, allowing gamers to play at their peak performance levels.
Whether you're looking for a wireless gaming mouse with customizable ergonomics or something that offers an extra level of accuracy, there's a rainbow gaming mouse out there for you. With so many different options available, it's important to consider the pros and cons of each type of mouse before deciding which one is right for you.
Do your research and decide which features are the most important to you, and then look for a mouse that meets those needs. No matter what type of rainbow gaming mouse you choose, it will enhance your gaming performance and give you a competitive edge.