In this day and age if you want to get your work down faster and more effectively it is essential to buy a high quality printer for bulk printing because not only that it will help you get large volumes of paper printed in less time but also you will get more satisfied with the quality of prints.
However, the printers market is full of different types of printers that sometimes makes it hard for the user to choose the one that fits their needs perfectly which is the main reason why this article was formulated so that not only you will be able to save your time but will have instant access to the best printers for bulk printing.
Bulk printing is an essential component of small businesses that need to get their work done using the most effective tools that also cost less money. When you go to the market you will find different types of printers for every kind of office and its requirements.
Whether you want a wireless printer or a more secure printing device all these options are easily available in the market. But since most people do not have much time to research on their own we advise you to read this article.
Important factors to keep in mind while looking for a printer for bulk printing
Many different factors determine the quality of the performance of a printer especially when it comes to bulk printing.
Laser printer or inkjet printer
Firstly the user needs to know the different uses of both these printers. If you are someone who is looking for a printer that is how you affordable and will get your job done at a very low cost then you should choose an inkjet printer but it is important to keep in mind that this printer can't provide bulk printing service. It is ideal for everyday printing services and office work.
On the other hand, if you want a printer that is ideal for bulk printing then you should go for a laser printer because it is designed to provide large volumes of prints in less time. Most laser printers are expensive but if the budget is not an issue for you then you should invest in a laser printer for your business and office work.
Size of the printer
Another important factor to consider is the size of the printer. Most of the printers used for office work are available in large sizes because they mostly have to deal with large volumes of prints daily and because of that their processes are mostly more developed than an everyday printer.
Since the size is large they will also be hard to carry around and will occupy much space on the desk so you should be prepared for that. These large-size printers are also expensive compared to the normal small size printers.
Resolution of the printer
One of the major factors that determine the quality of the print is the resolution of the printer. The higher the resolution the more realistic the prints will be and they would look more high-quality. Therefore if you want to look for a professional quality printer that leads to high quality prints you must check its resolution before purchasing it.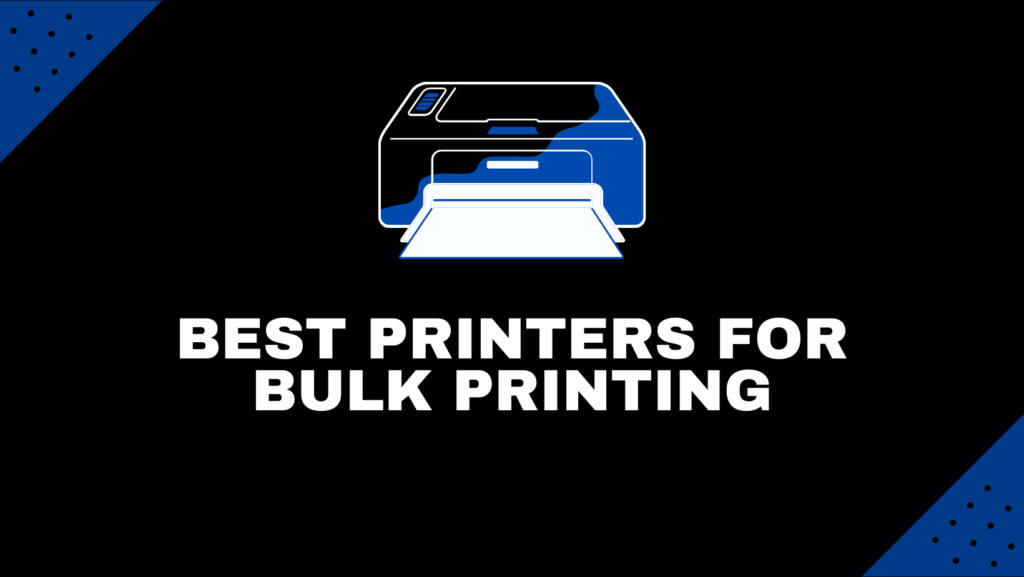 Best Printers For Bulk Printing 2021
Following is a list of the best printers for bulk printing 2021:
HP OfficeJet 3830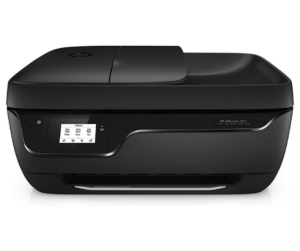 If you are looking for a printer to use for professional work or home use then your choice should be the HP OfficeJet 3830 printer. The printer is wireless for printing, scanning, copying, and fax services and keeps you productive all the time while you are working. You can get prints through wired and wireless connections depending on what is easier for you.
When you use the HP smart app you will be able to print directly from the mobile device or tablet without connecting to a computer making it easier for you to get the prints done.
It is also highly compatible with air print if you are using an Apple phone or an Apple tablet.
Another important feature of this printer is the compact size that makes it easier to carry it around and place it wherever you want to conveniently. It also provides an unlimited one-year hardware warranty and 24 x 7 customer support.
Because of its powerful performance, you will see most of the established businesses and business owners use this printer because it is reliable for professional and heavy work. It provides top-notch performance that leads to no errors in your work.
Whether you want to do simple or advanced printing you will be able to do all of it without any difficulty. It comes with a capacity of 256 sheets of paper and a printing speed of 22 pages per minute so that you can spend less time doing work related to printing.
It comes with three stage reconnection protocol so that you will be connected to smart devices and networks all the time. To keep your information safe and secure this printer also comes with an encryption system.
The OfficeJet printer comes with a 2.65 inch touchscreen for smart control that is easier to do for everyone. And also provides a 10 page capacity for an automatic document feeder that works for the scan and copy function
Pros
If you are someone who wants to do professional printing work by using their mobile device then it is highly recommended to purchase that HP OfficeJet printer
It comes with a super responsive touchscreen that is very easy to use for everyone since it provides the fastest access to all the services provided by the printer
It is highly compatible with all the major operating systems which include Windows, Linux, and Mac
Cons
Most people do not like the output tray of this printer
Brother HL-L3270CDW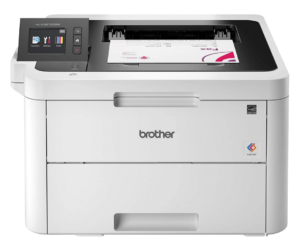 Another printer that is suitable for professional work is the Brother HL-L3270CDW Printer. This printer is a showstopper and has attracted a large number of users because of its extra reliable performance. It comes with a printing speed of 25 pages per minute on both sides for black-and-white and color prints. It provides a total capacity of 250 sheets in the input tray that accommodates papers of all sizes. This is why it is a great choice for printing business cards or labels for businesses in bulk.
Through the touchscreen, the user will be able to customize and edit their designs through the shortcut if they are printing directly from the mobile device. When you connect the printer with the mobile device you don't require a Wi-Fi connection all the time. It provides decent connectivity options which include Wi-Fi connectivity, USB port, and Bluetooth connectivity option. The brother printer is also highly compatible with android and iOS devices. The user can get up to 2000 pages every month easily using this printer.
If you want to enjoy fast performance through the computer then connect it with the printer through the USB connectivity ports. It greatly supports all modern operating systems. On this printer, you get two different slots which include one manual slot and another rear slot.
Pros
It provides a fast printing speed of 27 prints per minute so that you can do your work pretty easily
With the help of this printer, the user will be able to print 2000 pages per month
It comes with a huge paper feeder that can easily hold up to 250 sheets at a single time
The best feature of this printer is that it comes with a toner saver mode that can easily save ink
Cons
It doesn't provide a stable wireless connection
Canon PIXMA TS8320
One of the most versatile printers to ever exist is the Canon PIXMA TS8320 printer. You can easily set the printer on the desk or a shelf because it is small in size and it doesn't occupy much space which makes it easier to carry around and set it up anywhere you want. The output of this printer extends automatically so that it doesn't cause any damage to the printed document and the quality remains the same.
It provides a sheet capacity of hundred sheets including both the front and back sides of the paper and it easily supports all types of paper and sizes of paper. It provides a 6-inch system that includes a blue ink tank that provides better contrast and sharpness results on the printed photos.
This feature is great if you are someone who has to print labels and stickers for the business. You can easily produce 15 pages per minute with this printer and print 4 x 6" borderless glossy photos. It will provide you high-quality glossy photos within 17 seconds which is amazing and it is hard to find such type of professional results in other printers. Because of the five different ink systems in this printer, you will always get excellent quality prints for stickers, labels, or business cards. It means that you only have to refill the ink that gets empty not the entire in storage.
It provides a 3 inch is a responsive LED screen that provides complete access to the control panel so that you can have access to features like scanning, printing, and copying within seconds.
Pros
The best thing about this printer is the compact size that allows the user to fit it anywhere in the room because it doesn't occupy much space and it's easier to carry around
It comes with a 5 ink system in different colors so that you can easily produce excellent quality paint without worrying about running out of ink 
Cons
If you want to print properly then you need to fix the external parts to the right places otherwise you won't receive any high-quality results
Epson SureColor P600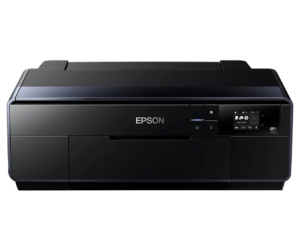 Another premium quality printer for office work is the Epson surecolor P600. It provides a resolution of 5760X1440 which is ideal for achieving high-quality paint in both color and black-and-white types.
It is one of the best all-in-one printers that provide the most reliable printing, scanning, and faxing services. The bottom tray can handle up to 250 sheets of paper which is a pretty good number for running a business. If you are someone who has to print photos almost every single day then you should get this printer because it provides a printing speed of 20 prints per minute.
It is ideal for all types of paper and sizes of paper. But if you want to print on paper, envelope, or for business labels you can do all of it pretty easily through this Epson sure color printer.
The reason why you should buy this printer is that it provides a super fast printing speed for black color which is 807 PPM and that for colored prints is 16 PPM which is ideal for those users who are very impatient and need to get the work done super fast.
Pros
It comes with super fast printing speed making it a reliable choice to get work done in high-quality and much less time
Compared to other printers this printer consumes 80% less power which makes it one of the best laser printer for bulk printing
It can easily be connected to the computer and other devices true wireless connections
It provides a wider color range in its 9 pigment-based colored cartridges
Cons
The ink tends to get blocked sometimes when you continuously use the printer
Final words
Your customers and clients recognize your brand by the quality of the brand label or the business card which will attract them towards purchasing your service. This is the reason why you need to invest in a high-quality printer especially when you have to get bulk prints. Most users who read this article and buying guide were able to purchase the most perfect printer for Bulk printing and it will surely help you too.