The podcasting revolution is here and has become an increasingly popular way to share stories, ideas, and knowledge with a wider audience. If you are looking to start your podcast, one of the most important pieces of equipment you need is a podcast camera. To facilitate your research, we will explore the features to consider when choosing the best camera for podcast setup. We have also recommended our tested and tried top picks so you can make the best choice.
Features To Look For In The Best Camera For Podcast
The most important features to consider for choosing or buying the best camera for podcast setup are as follows;
Resolution – Look for a camera that offers at least 1080p resolution for the best quality recordings.
Autofocus – Autofocus is a great feature to look for in a podcast camera as it will help you get crisp and clear recordings every time.
Video Format – Make sure the camera you choose supports the type of video format you plan on recording with (i.e. MP4, MOV).
Frame rate – The higher the frame rate, the more detailed and smoother the video will appear. Generally, look for cameras with at least 30 frames per second (fps).
Lens – Look for a wide aperture lens range that can handle low light conditions, sharpness, and zoom capabilities.
Audio Inputs – Ensure that your camera has multiple audio inputs so that you can connect a microphone or external sound system to get higher quality sound.
Connectivity – A podcast camera should offer Bluetooth, Wi-Fi, or USB connections to allow easy data transfers between your computer and camera.
Battery Life – Get a camera that offers long battery life so you don't have to worry about running out of power during a recording session.
Best Camera For Podcast Recommendations
Our top pick of the best camera for podcasts includes;
The Canon EOS RP – is a full-frame mirrorless digital camera perfect for podcasting. Its 4K 26.2MP full-frame CMOS sensor and the powerful DIGIC 8 image processor offer professional image quality and stunning low-light performance. Additionally, it has a fast and reliable autofocus system with AF modes covering 88% of the frame to provide accurate and smooth focus tracking. The camera also features dual-pixel autofocus, allowing you to lock onto your subject quickly and accurately, even in low light conditions. It also comes with built-in Wi-Fi and Bluetooth for easy sharing, and with a built-in variable-angle LCD touchscreen display and intuitive controls, you can frame shots quickly and get creative with your angles and composition.
The OLYMPUS OM-D E-M5 Mark III – is one of the best cameras for podcasting available today. This camera has a 20.4-megapixel sensor and up to 4K 30p video recording capabilities. It allows you to capture stunning audio and visuals with its advanced 5-axis image stabilization system and high-resolution LCD that you can easily use to create your podcast. It also features an autofocus system that ensures you get sharp images and videos with maximum accuracy. Additionally, it offers a wide range of interchangeable lenses that allow you to capture different angles and perspectives.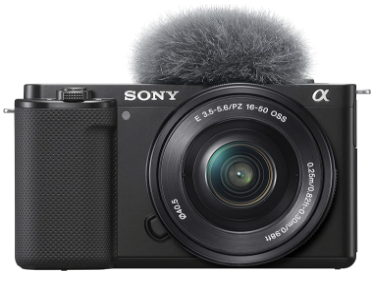 The Sony Alpha ZV-E10 is an APS-C interchangeable lens mirrorless vlogging camera kit, perfect for creating professional-looking videos. It offers 24.2 megapixels of resolution and a wide range of features, including 5-axis image stabilization, fast autofocus with 169 phase-detection points, and advanced manual focus modes. The versatile lens is perfect for capturing stunning landscapes and close-up shots. It offers fast autofocus and quiet, smooth operation. Its Wireless Bluetooth Grip allows you to control the camera remotely, making it ideal for recording videos on the go.
All of them are the best camera for podcasts at an affordable range, which makes them an excellent choice for anyone looking to create professional-quality videos or get started in this rapidly growing medium. They offer a powerful combination of features and versatility that makes them ideal for bloggers, YouTubers, or anyone who wants to take their video production to the next level.
Stay tuned to hightechreviewer.com If you want more exciting guides and reviews regarding technology, stay tuned!
Read More: Best camera for concert photography