This review will provide an overview of the features to look for in 6×8 speakers and the advantages that they offer. Whether you are an audiophile looking for an upgrade to your sound system or a beginner just starting. We will cover all the information you need to find the best 6×8 Speakers and our top picks!
Types Of 6×8 Speakers
The Best 6×8 speakers are a great option for audio enthusiasts looking for high-quality sound. They come in a variety of types, each with its unique advantages and disadvantages. The most popular types of 6×8 speakers include coaxial, component, and multi-elements.
– Coaxial 6×8 speakers are the most common type and feature a tweeter and mid-range speaker mounted together in a single housing. They are easy to install and provide good sound quality at an affordable price. Coaxial 6×8 speakers also tend to be very compact, making them ideal for vehicles with limited space.
– Component 6×8 speakers are made up of separate components, including a tweeter, mid-range speaker, and woofer. This allows the user to customize their sound by adjusting the positioning of each component. Component speakers provide excellent sound quality, but they can be more difficult to install than coaxial models.
– Multi-element 6×8 speakers are the most advanced type and feature multiple mid-range drivers, tweeters, and woofers. These speakers provide the highest sound quality but can be quite expensive. They are best suited for professional applications or large home entertainment systems.
No matter what type of speakers you choose, it is essential to make sure that they fit your needs and budget. Make sure to research the types of 6×8 speakers and their features before purchasing them to get the best value for your money.
Features To Look For In The Best 6×8 Speakers
The most essential features to look for to buy the best Speakers are as follow;
Frequency Response: The frequency response of a speaker is important in determining its sound quality. Make sure that the frequency response of your chosen 6×8 speaker covers the range of 20 Hz to 20 kHz for optimal sound reproduction.
Power Handling: Look for speakers with good power handling so that you can achieve high sound levels without over-taxing your amplifier.
Sensitivity: Good sensitivity (measured in decibels, dB) will ensure your speakers can generate loud and clear sound even at lower volume levels. Look for speakers with high sensitivity ratings (over 90 dB).
Impedance: A low impedance rating (4-ohm or 8-ohm) is ideal for 6×8 speakers as this will help maximize power transfer from the amplifier to the speaker.
Crossover: Look for speakers with built-in crossover networks that allow the user to customize the frequency range sent to each driver. This will ensure optimal performance of your 6×8 speaker system.
Durability: Ensure that the speakers you choose are made from high-quality materials and are built to last. Make sure you check reviews and ratings of the product before making a purchase.
Price: Last but not least, consider your budget and try to get the best value for your money.
Recommendation Of Best 6×8 Speakers
Our top picks of best 6×8 Speakers include;
JBL GX8628 6X8″ 2-Way Coaxial Car Speakers – They offer a wide range of features Including Edge-driven Textile Dome Tweeters, 4-Ohm Impedance, Carbon-injected Plus One Woofer Cones, 25mm Voice Coils, and Peak Power Handling of 360W. It provides great sound clarity and dynamic range with deep bass and smooth highs.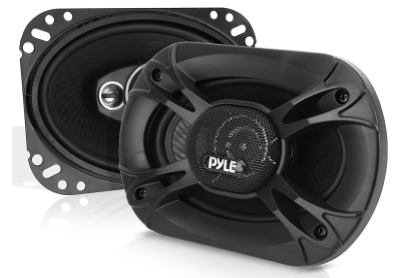 Pyle 3-Way Universal Car Stereo Speakers PL6183BK (Pair) – They offer high quality, 400 Watt 3-way car speakers with a 6″ x 8″ triaxial design. They are compatible with universal OEM door and side panel mounts. Also provides pro audio sound quality with long-lasting durability and a quick replacement component speaker system for added convenience.
The PIONEER TS-A682F A Series 6″ x 8″ 4-Way Coaxial Speakers (Pair) – These speakers feature a 350W max power output, Carbon/Mica-Reinforced IMPP Cone, 11mm Tweeter and 11mm Super Tweeter, and 1-5/8″ Cone Midrange providing rich-quality sound pleasure that also comes with super superior sound clarity.
All of them are the best 6×8 Speakers from the most reliable manufacturers, choose any of them that comes within your budget and enjoy your ride!
Stay tuned to hightechreviewer.com If you want more exciting guides and reviews regarding technology, stay tuned!
Read More: Best underwater fishing camera