There are so many people who love running, hiking, and other outdoor activities because it keeps them healthy and active. Hiking can be made a lot easier when you have a high-quality smartwatch that provides the best navigation services and long battery life so that you can easily enjoy doing hiking without worrying about running out of battery.
Whether you are excited about going on a hike or doing any other kind of sport you will benefit a lot from this article because it will provide you access to the most reliable smartwatches that are perfect for outdoor events and activities. Buying the right outdoor smartwatch is a very tough decision when there are so many choices available in the market these days.
Best smartwatch for hiking 2021
Following is a list of the best smartwatch for hiking 2021
Garmin Instinct Solar
One of the most popular and widely used smartwatches for hiking is the Garmin Instinct Solar. Provide one of the best solar charging which gives you extra battery life that is an ideal feature for hiking and similar adventures.
It comes with a heart rate monitor that is ideal for tracking and hiking purposes which also comes with a pulse meter that greatly helps in tracking your overall health especially when you reach a high altitude. The battery life lasts for 24 days and can't even last for 50 days if the smartwatch has regular sun exposure.
When you are using the GPS navigation on the smartwatch continuously then the battery life you're not a little shorter than the average time. In such cases, it is advised to use the ultratrac battery saver mode.
This watch is available in three colors which include red, orange, and graphite. It is also easy to customize and you can change the wristband in different colors according to your preference. It weighs 52 g which makes it slightly heavy. As far as the fit is concerned it provides a comfortable fit because of the large silicon strap even so if you wear it 24/7  the straps won't cause any skin rash or discomfort.
Pros
It comes with a long lasting battery life which comes with solar charging so that you will hardly ever run out of battery which makes it a great choice for hiking purposes
It is also available in different colors and provides a comfortable fit so that even if you wear this watch throughout the day it won't cause any skin marks or rashes
Cons
The GPS navigation on this smart watch needs to be upgraded because it provides very limited features
Polar Grit X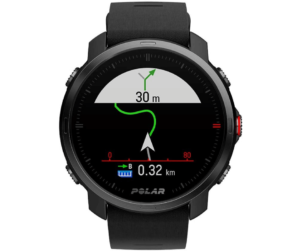 Another good quality smartwatch for hiking purposes is the polar grit X smartwatch. This torch provides a big battery life and makes it a great choice for tracking and hiking purposes because it was specifically built for adventurous people. It is not designed for everyday roadrunners or people who hit the gym because of its unique features. When you purchase this watch you will get route guidance that will make it easier for you to find out what shortest route to take for hiking.
As far as the design is concerned it comes in a stainless steel case and consists of a fiberglass coating that protects the screen from any external damage. It provides a 1.2 inches touchscreen that is very responsive.
This smartwatch provides a very comfortable fit to the user as well. It is big but when you wear it regularly you get used to the size and it doesn't feel bulky at all. When it comes to the durability it is very durable and water resistant 100 m which is rare to find in most smartwatches.
It also provides a calorie burn calculator so you will track your daily calorie intake easily. If you are a hiker then you will mostly use the magnetometer compass that also provides access to the current altitude which is present in the smartwatch.
Pros
The smartwatch provides a magnetometer that provides access to altitude graph and possible climate at higher altitudes
It comes with a very responsive touchscreen which is easy to use and provide you the fastest access to your favorite applications
Because of the comfortable fit, the smartwatch doesn't feel bulky at all even if you wear it throughout the day
Cons
You guys have found this smartwatch to be slightly expensive and out of budget
Amazfit T-Rex Pro
Another highly popular smartwatch among hikers and trainers is the Amazfit T-Rex Pro. It is ideal for those users who spend most of the time outdoors indulged in physical activities. It comes with the best GPS navigation system associated with a satellite navigation system providing the best GPS services without any disconnection problems.
The battery life lasts up to 18 days which is shorter than most hiking smartwatches but on a normal day lasts up to 20 days. If you heavily used a smartwatch them the battery life lasts up to nine days and the GPS will last up to 40 hours.
However, it is very important to know that the navigation system is not well-built and this smartwatch and it also misses out on the navigation support which is a major drawback because it can cause serious problems when you are going out for a hike at a long-distance place.
One of the best features of this watch so that it can track 14 different physical activities at a time. Whether you are running, jogging, trialing, or doing any other physical activity this watch will be able to track all of it. It also tracks your total steps, heart rate, and sleep pattern apart from it.
Pros
This smart watch provides the best GPS navigation system as it is also connected to the satellite system so you will hardly face issue with the GPS
It can track up to 14 physical activities at a time along with the heart rate and the total steps
Cons
The battery life is decent but compared to other high quality hiking smartwatches it is very low
Coros Vertix
When it comes to buying a smartwatch that provides an attractive design then your choice should be the Coros Vertix Smartwatch. It is not a very popular choice because it has recently been launched in the market but it comes with reliable features which make it a very durable smartwatch.
The tracking service is basic but comes with satellite support. It consists of different modes for hiking and tracking purposes. Overall the GPS tracking service is very basic and you shouldn't have high expectations from it.
However, it does come with an oximeter that keeps you safe when it comes to exploring high altitudes. The battery life lasts up to 45 days on regular use but when you are using the GPS every single day then the battery life lasts up to 20 days.
It doesn't come with a touchscreen and the user will have to be with a non-touch display which can get hard if they are not comfortable with accessing all the features through the buttons. It will make it easier to use the different features on the smartwatch even if you are getting gloves but you will be required to press harder.
Pros
It comes with the best water resistant system which makes it a great smartwatch for those users who like to swim a lot
It also comes with a decent battery life that lost up to 45 days on a single charge
Cons
The GPS navigation system and tracking services are very basic on the smartwatch which needs to be upgraded
Important things to consider while buying a smartwatch for hiking
Before you spend money on a smartwatch it is very important to consider that it consists of the following features so that you end up buying the most reliable watch for yourself.
Price
The first thing that you must look for in the watch is that it suits your budget perfectly. It is not difficult to find a good quality hiking watch but it might be hard for you to come across it which is why it is advised to read this article. If you are in search of a more durable and lightweight smartwatch for hiking it will also be expensive because it ensures better quality performance compared to other watches. Therefore if budget is not an issue for you then you should look for the most premium and durable smartwatch for hiking.
Easy to use
Another important thing to look for in a smartwatch for hiking is that it should be very easy to use especially when it comes to pressing on the buttons as they shouldn't be very hard to press on. It is the users' personal choice whether they prefer a touchscreen or a button navigation system. When it comes to using a touchscreen-based smart watch if it is better to use because you don't have to worry about pressing hard on the buttons too you'll have access to certain features. However when you are wearing gloves it becomes very hard to have access to the touch screen.
Battery life
Another important feature that you must consider when purchasing a smartwatch is its battery life. When you are hiking to a long distance it will be hard for you to keep track of your physical activity if your smartwatch does not come with long battery life as it will run out of battery pretty quickly. If it runs out of battery then you will not be able to have access to certain features which include GPS navigation, heart rate tracking, etc.
Therefore you must always choose a smartwatch that provides long battery life. They are smartwatches that use solar power for charging the batteries which is a very great option for those users who are regular hikers. This will automatically charge the battery and it also provides power saving mode to the users so that they can easily use services like GPS navigation.
Design
Most of the hiking watched come in a very basic design and they hardly fulfill the aesthetics requirements of an average user. They are also heavy and it is hard to find a lightweight smartwatch for hiking. But they do provide a replaceable watch band so you can match your outfit with a specific color watch band if that would fulfill your aesthetics.
Water resistance
When you are getting a smartwatch for hiking and traveling purposes you must make sure that it is water-resistant which means that you don't have to worry about getting your watch damaged even if it accidentally falls in the water because water resistant technology will keep it safe from any type of damage.
If you are looking to protect your smartwatch from any damage that might occur due to spilling water Then make sure that it comes with a water resistance level of 50 m. On the other hand, if you are a regular swimmer and do you like to wear a smartwatch all the time then you should go for a watch that comes with a water resistance of 100m.
Navigation system
GPS stands for global positioning system which is a satellite-based navigation system used excessively for safe travel which is the reason why you will see many hikers he was a smartwatch that comes with the best GPS navigation system so that you will be able to enjoy the best tracking service as you like. A GPS navigation system will allow you to see which day you are on and the path next to take.
Final words
Using best smartwatch for hiking can be made a lot easier if you spare some time to read this article before spending any money. You will have access to the most reliable smartwatches so that you get nothing less than the best quality. A lot of people have found this article to be very helpful and it will provide you great benefits as well.